Latest News
New SmartCAM Release Schedule Announced
June 12, 2013 - Springfield, Oregon - SmartCAMcnc has announced a new development release schedule for the SmartCAM® suite of computer-aided manufacturing (CAM) software. Effective immediately, SmartCAM will now have a single, major 4th-quarter release, with "service pack" maintenance releases scheduled as needed.
Previously SmartCAM had two major releases per year. The new release schedule provides SmartCAMcnc's staff a longer, uninterrupted development cycle by eliminating the release activities related to testing, validating and delivering a second major release each year.
The SmartCAM CAM software family consists of applications for Computer-Numerical Control (CNC) milling, turning, fabrication and wire EDM.
How Important is Toolpath to You?
How Important is Toolpath to You?
Where SmartCAM CAM software is unparalleled is in toolpath manipulation. There is NO CAM product in existence that is as versatile at this. Because all SmartCAM toolpath (including holes) are created as a type of geometry element, every single toolpath segment can easily be edited/modified/sorted/re-ordered per your necessity or desire. In this regard, SmartCAM is the best CAM product in the world.

Chris K., SmartCAM User
SmartCAM is the ONLY CAM software solution that provides programmers with Toolpath Modeling™: the ability to manually or automatically Create, Edit, and Delete toolpath as graphical elements.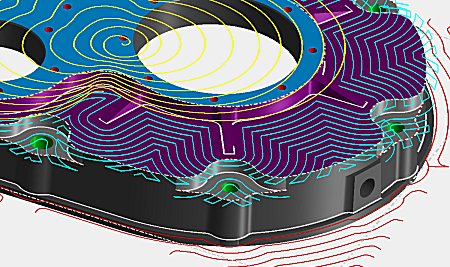 The SmartCAM Difference
Every CAM software system allows you to import CAD data, draw geometry and create automated toolpath operations, and of course SmartCAM can do that as well.
But what if you need to:
Edit Resulting Toolpath?
Change CAD geometry into Toolpath geometry?
Reorder the toolpath?
Resequence the toolpath?
Mix automated processes that need some editing?
Automate and customize your interface with macros?
Make changes to your post processor?
With SmartCAM Toolpath Modeling, all toolpath elements are treated as geometry, whether created manually or with SmartCAM's robust, automated toolpath creation tools, allowing complete manipulation in just the same way as model geometry elements.
So if you need to do any of these, then you need Toolpath Modeling, and SmartCAM is the only CAM software that provides it.
THAT is The SmartCAM Difference. CAM software that allows you to do what you need to do.

International
SmartCAMcnc offers sales and technical support to its large base of international SmartCAM customers, both directly and through the SmartCAM Authorised International Dealer Network.
Localised versions of SmartCAM are available for many languages.
SmartCAM business continues to expand in the global manufacturing marketplace. There are opportunities for appropriately-skilled and experienced organizations to represent our products in many sales territories.